Description: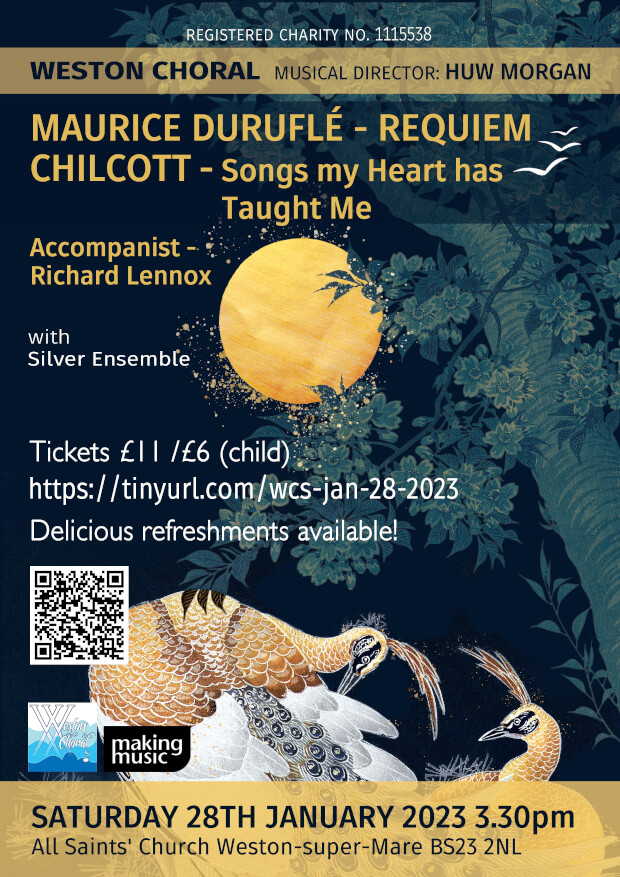 Winter Concert Programme:
Maurice Duruflé - Requiem
Bob Chilcott - Songs my heart has taught me

For our January 2023 concert we are tackling two very contrasting pieces. The first is the hauntingly beautiful "Requiem" by the French composer Maurice Duruflé. For the style of music think 'Faure with sophisticated extras'. The themes of the Requiem are based on chants and will fit really well with the acoustics in All Saints' Church. It will sound ethereal and heavenly!

The second group of pieces is a brand new work by Bob Chilcott: Songs my heart has taught me. It's a set of four contrasting songs in various styles, one of which is musical theatre. In this passionate four-movement work, composer Bob Chilcott and lyricist Delphine Chalmers explore themes of inclusivity, identity, and unity - very appropriate for our times.

We are joined by the peerless Richard Lennox (accompanist), and Silver ensemble. We look forward to welcoming everyone for an evening of wonderful music.

Our regular MD Howard Sayer is taking a sabbatical, so the choir is very fortunate to have secured the services of Huw Morgan, an experienced musical director now based in Bristol. Huw is also a prestigious organist who composes and has made recordings.

The whole calendar timing and time of day of this concert is new for Weston Choral. We decided on this occasion, to dispense with a traditional Christmas concert (that will be back for December 2023!) and instead we have placed the concert on 28th January 2023 when the Christmas and New Year rush is over! Again, to ring the changes the concert will be in mid-afternoon at 3.30pm and will be concluded with a 'tea and cakes' session at the end!

We look forward to welcoming everyone to a wonderful January concert with fabulous music and lovely refreshments to lift our spirits this winter!

TERMS OF BOOKING: Tickets paid for by BACS / cheque will be sent once the booking and payment have been processed - please allow 10 working days for verification and processing - because of the time needed for verification, please only use this method if there are at least two clear weeks until the concert takes place. Online credit / debit card bookings are handled via our ticket agent: ticketsource - tickets paid for using credit / debit card via ticketsource can be downloaded immediately from the ticketsource website.
All bookings are final - refunds will only be made in the event that the Concert has to be cancelled due to unforeseen circumstances. Any further information will be sent by email so please take care to provide a valid email address.