Description: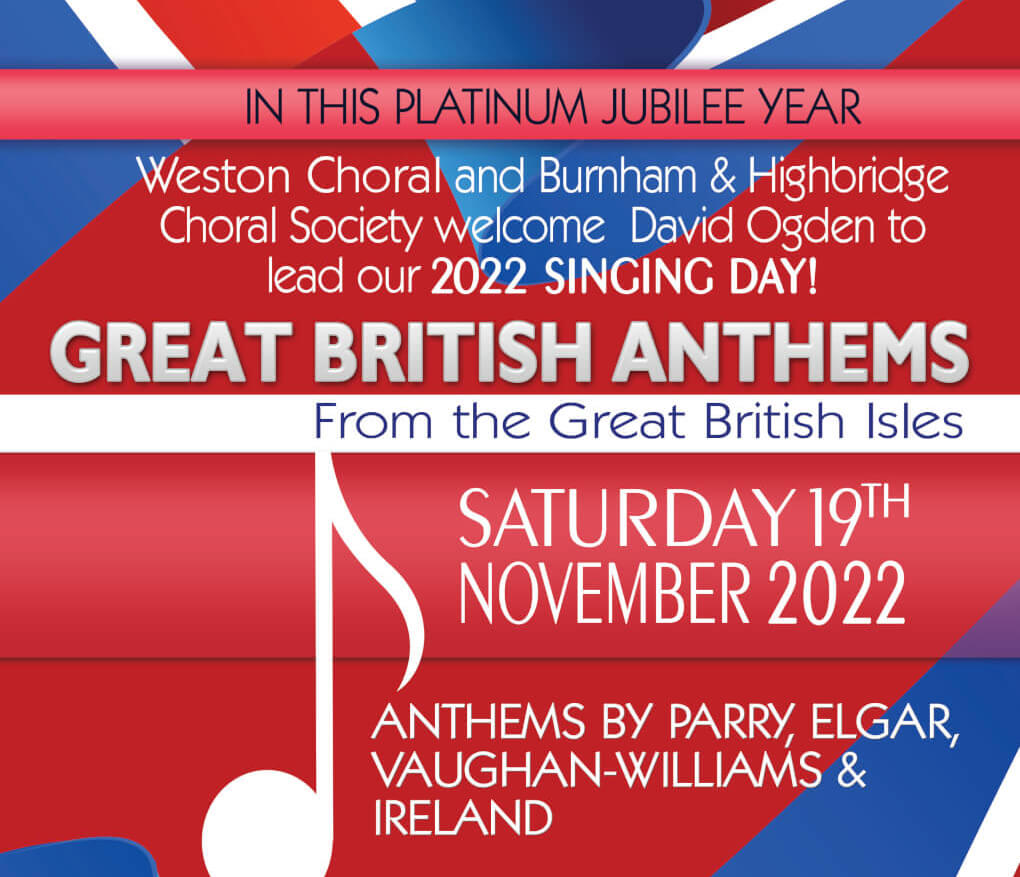 This singing day event has been postponed twice now thanks to COVID, but it does seem appropriate to be finally holding it in 2022: the year of Queen's platinum jubilee !

After the chaos of the catastrophic pandemic we are now holding this event on Saturday November 19th 2022

Here is a little more information on the event....
Our theme is: '

Great British anthems from the Great British Isles

'.
The Music:
We will be singing some of the most beautiful sacred anthems written by composers from the British Isles. It struck us that the last singing day (where we tackled Rutter's Gloria and Haydn's Te Deum), was all in Latin, so this time, it would make a refreshing change to do some singing in English! This will also give us the opportunity to move a bit faster through the learning and improve the interpretation.
Our four pieces are:
Vaughan Williams - O clap your hands

Elgar - Give unto the Lord

Ireland - Greater love

Parry - Blest pair of sirens
Guest conductor, David Ogden:
David is a professional conductor and composer who has conducted choirs on BBC radio, and his music is broadcast regularly. He is Choral Music Adviser for the BBC's hit series Call The Midwife, and worked with the Royal Mail Choir in the BBC Two series The Choir; Sing While You Work.
He conducts numerous choirs in the Bristol area including the City of Bristol Choir, Exultate Singers and the Bristol Youth Choir.
It promises to be an exciting and fun day of singing where we work on these pieces from scratch and finish with a relaxed performance at the end of the day.
Venue
Our venue is at St Mark's Church in Worle (5 minutes from Junction 21 on M5). Join our friendly throng for a harmonious day of choral pleasure!
Praise for Our Last Come and Sing Event:
"As usual, it was all extremely well organised and went off very well"
"A big thank you to everyone who came to our third singing day on Saturday 28th September (2019). It was an awesome day singing the glorious music of Rutter and Haydn. There were delicious cakes to re-charge the energy batteries and lots of lovely people to talk music with..."
Here's a quote from our brilliant conductor David Ogden:



"Well done to everyone. I thought the standard was a notch up this year and all the singers sang their hearts out."



TERMS OF BOOKING: Tickets paid for by BACS / cheque will be sent once the booking and payment have been processed. Online credit / debit card bookings are emailed immediately.
All bookings are final - refunds will only be made in the event that the Concert has to be cancelled due to unforeseen circumstances. Any further information will be sent by email so please take care to provide a valid email address.